A New Teacher's Guide to Staying Organized
April 12, 2023
by Jenna Sherman, Parent-Leaders.com
Teaching can be a rewarding profession, giving you the opportunity to educate a new generation of young people. That said, it can also be overwhelming, especially when you're first starting out. Teaching requires you to multitask and stay on top of many different components, from your lesson plans to how your students are performing. If you're having trou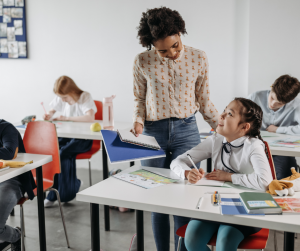 ble keeping up, the below tips can help.
Invest in a good calendar tool
A teacher's calendar is their best friend. With a comprehensive calendar, you can track major events like school holidays as well as class-specific occurrences like tests and exams. Having a big printed calendar like this is ideal because you can post it where all your students can see. That said, digital calendars are also handy as they let you set reminders, which you can receive on your phone.
Make a system for tracking each of your students
You want every one of your students to thrive. For this to happen, you need to monitor each one's progress. The key to success is to develop a data-tracking system. You can collect information through various tools, including pre-assessments, whiteboard practice, and exit tickets. This allows you to pinpoint potential weaknesses and address them quickly before
students fall too far behind.
Keep a record of your lesson plans
A lesson plan is a set approach to how you'll teach a certain skill or knowledge point. You can reuse lesson plans—you just have to make sure you don't lose them. Come up with a filing system for your lesson plans, for example, according to the subject matter. Only save lesson plans that are effective. To determine a plan's effectiveness, Teach-Nology recommends tricks like having a colleague review it or videotaping yourself teaching.
Come up with a system for organizing your paperwork
Paperwork is an inevitable fact of teaching. Make it easier to organize your various documents by digitizing them. A PDF format is usually preferable to Word, Excel, or PowerPoint because you can share it more easily with other staff. You can use online tools to convert these file formats to PDF. This may help you: Just drag and drop the document you need to convert, and then re-download it as a PDF.
Keep your classroom decor in order
Classroom decorations help make educational spaces more inviting and engaging for students. As a teacher, you'll probably want to adopt different types of classroom decor, posting everything from inspirational quotes to holiday themes. You can reuse these items year after year by saving them in waterproof containers, like plastic bins. Label each container clearly, so you know what's inside.
Trust technology to help you stay on top of things
Technology can help both students and teachers. Ozobot offers a roundup of learning options that may prove useful in your classroom. For example, Bakpax is an AI tool that grades students' work on the spot, providing immediate feedback on assignments. Meanwhile, PearDeck makes it easy to make lessons interactive, and SeeSaw lets students create collages, videos, and more, resulting in a more engaging learning experience.
Seek help when needed
Teaching can be a fun and rewarding profession. However, it presents plenty of challenges. Make sure you're getting the help you need. Connecting with other teachers, for example via online platforms, is a great way to get tips on how to stay organized. There are also niche resources. For example, The Pennsylvania Association for Gifted Education provides
pointers and tools related to gifted students. As a teacher, you'll face plenty of hurdles in your career. Staying organized shouldn't be one of them. By taking steps like digitizing your papers, you'll simplify your job.
For more content like this for teachers, visit the blog.