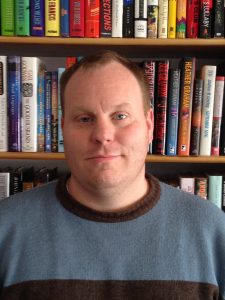 Meaning, Creativity, and Possibility:
An Open Letter About Gifted Education in Pennsylvania
Greetings from PAGE!
As my first official public act as President of PAGE, please allow me to introduce myself and briefly explain why I am excited to be serving as the newly-elected President of the Pennsylvania Association for Gifted Education.
I was first introduced to gifted education in the second grade, initiating what would become a life-long journey for me as a gifted learner. Like many students, I walked through a battery of assessments, meetings, and scheduling sessions, after which I was provided with an array of services that stimulated my mind and emboldened by will. Even today, several decades later, I still remember encountering my first desktop computer (which, in the early 1980s was still quite rare), publishing my first book as an elementary student, enjoying probing questions and debates with my peers, and traveling throughout the state to science fairs and pre-college visits intent on deepening my future.
As a young but precocious student, I knew at the time that I was doing something different than most of my peers. What I did not realize was just how remarkable and special the opportunities being afforded to me were. Unbeknownst to me, I was receiving a customized, focused education that self-consciously placed me at the center and gave me tools that would help me to excel. It was as if my teachers had huddled together in a room and read the following passage from Jean Piaget, deciding all at once to apply Piaget's insight to my educational experience.
"The principle goal of education … should be creating men and women who are capable of doing new things, not simply repeating what other generations have done; men and women who are creative, inventive and discoverers, who can be critical and verify, and not accept, everything they are offered."
Whether or not I have done anything new or have been creative remains to be seen. What I am certain of is that my early years as a gifted student placed me on a privileged trajectory, initiating a life-long journey of exploring disparate interests, becoming self-aware of my weaknesses, and deploying my strengths in varied contexts. My experiences as a young learner served to create my identity, shape my passions, and multiply my freedom to navigate the world.
Due in large part to my curious and sometimes scattered mind, my professional story is a bit unconventional and not altogether straightforward. I am, by training, an academic who researches rhetoric and the philosophy of communication. After spending time as an Assistant Professor of Rhetoric, I stepped out of higher education to become a social entrepreneur. In more straightforward terms this means that I opened a for-profit bookstore that operates with a nonprofit mission. Our mission centers around fostering and growing hope in a former steel town that has been relentlessly ravished by the forces of globalization and automation. We put youth from our community to work, we labor to revitalize our local economy, we connect likeminded agents of social change, and we talk relentlessly about the importance of sharing meaningful lives together. In addition to my work as a social entrepreneur, I also serve as an adjunct professor, a community development consultant, and as a volunteer for a number of local and regional nonprofit boards.
The desire to create meaningful lives—this is what compels me to labor on behalf of gifted education. So much of what our world is becoming runs afoul of the sensibilities of gifted learners. As a society we digitize knowledge, commodify education, and instrumentalize work. In so doing, we bristle against what often makes gifted learners tick. Recognizing this reality, advocates of gifted education must labor all the more fervently to foster ecosystems that revel in the innate value of knowledge, that view learning as a journey, and that understand work as an intrinsically valuable expression of the human spirit. In short, we must strive to create environments where Piaget's vision for education is commonplace and where the insights of gifted learners co-exist alongside of the varied and beautiful fruits of human creativity in all its forms.
I hope you agree that we live in a time of tremendous need and unrivaled opportunity so far as the future of gifted education is concerned. Need and opportunity—these have always been the two poles around which the human experiment has orbited. How we choose to navigate around those poles is what distinguishes us from those who have come before and who will come after us.
As President of PAGE, I remain optimistic about the future of gifted education in Pennsylvania. Although there are many forces poised against us, our advocates and our mission remain focused and strong.
Empowering educators and parents to meet the diverse needs of gifted learners through awareness, advocacy, and action.
This, PAGE's Mission Statement, provides focus and direction on our quest to educate in ways that move our students toward fuller and more meaningful expressions of the human condition. I am more convinced than ever that this is what education (both for gifted learners and beyond) is meant to accomplish. I hope very much that you will join me on this journey of creating meaningful lives for our gifted students so that we can continue to strive together to explore the beautiful worlds of possibility ahead of all of us.
Respectfully,
Daniel Rossi-Keen, PhD
PAGE President