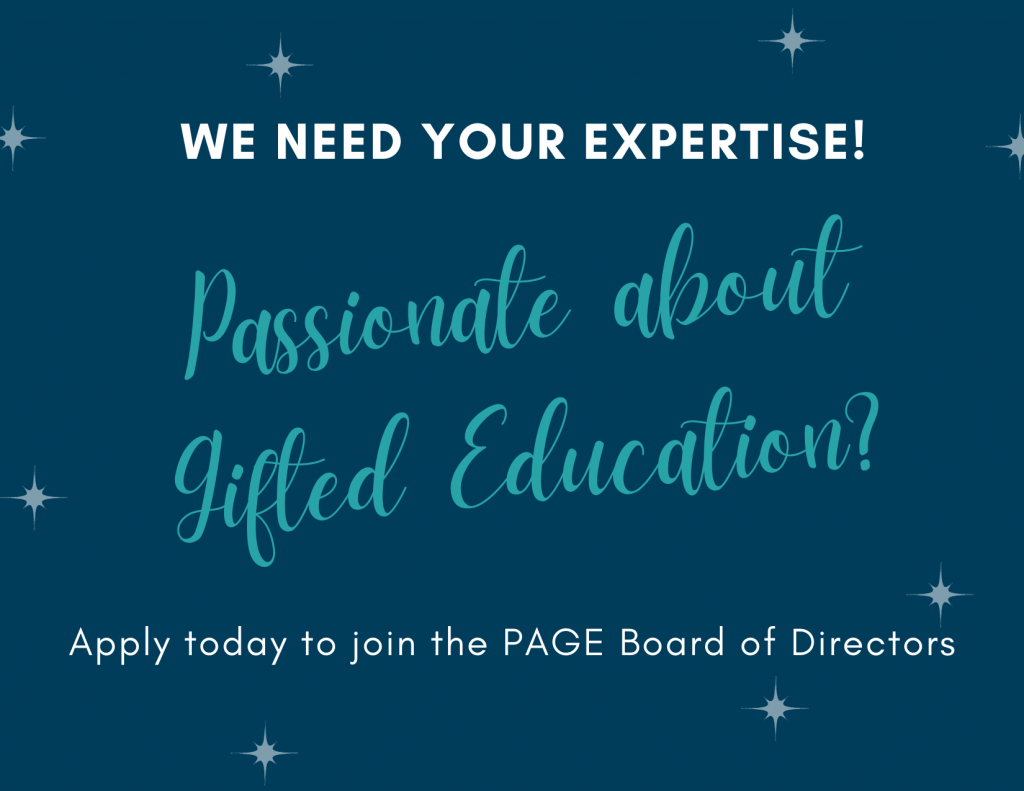 Serve on the PAGE Board to help guide the direction and focus of your state association while making an impact in the field of gifted education.
The PAGE Board of Directors is made up of members-at-large and executive officers. The Board typically meets two times each year for face-to-face meetings and monthly online meetings to consider the business of the organization and its strategic direction.  The Board is also responsible for attending and running the annual PAGE Conference. The board term length is a three-year term. Executive Board Officer positions include President, Vice-President, Executive Secretary, Treasurer, and Affiliate Director and they serve in their elected position for 3 years.
General Information on Joining the Board:

We're always looking for motivated and intellectually curious people to help fulfill our mission. Finding those people starts with YOU! The first step involves completing the application process and participating in an interview.
Applications are reviewed and interviews are conducted two times per year, in May and December.
You will be asked to upload the following to the online nomination form:
A resume/CV (that includes name, home address, phone, and e-mail address; current position; career highlights and history; education; description of PAGE participation and accomplishments in the field of gifted – e.g., conventions attended, presentations, committee/network/affiliate work; significant leadership and/or advocacy activities at the local, state, or national level; publications and/or presentations).
One letter of support from someone who will attest to the candidate's accomplishments on behalf of gifted children (e.g., PAGE leadership, local affiliate officer, local agency representative, or others who know the candidate's work.)
Statement of Candidacy (100 words maximum). The PAGE board reserves the right to edit any Statement of Candidacy to meet space requirements.
Please read the candidate's qualifications and responsibilities below before completing your online application. Successful candidates may serve up to a three-year term.
Qualifications
The following are the preferred qualifications that will be evaluated by the PAGE board:
Participation in and support of PAGE. Criteria for consideration include:

Applicant must be a PAGE member in good standing
PAGE conference attendance
Presentation at PAGE conventions (preferred)
PAGE committee participation (preferred)

Evidence of competency in gifted education
Demonstrated advocacy and leadership experience (e.g., starting a parent group, starting a local association for the gifted) is preferred
Other board experience, examples of board-level governance service, policy writing experience is preferred
The PAGE board will also judge candidates for re-election to the board on their:
Accomplishments for the organization
Evidence of meeting deadlines
Responsiveness to communications regarding board issues (e.g. voting, program feedback)
Responsibilities
Participate in the development and annual monitoring of PAGE's strategic plan
Attend at least three (3) PAGE Board Face-to-Face meetings per year; one in January, early summer, and one during the annual convention each November.
Attendance for monthly online board meetings (typically 1-2 hours in length).
Serve on at least one Board Committee at the request of the President.
Represent the best interests of the organization on all issues raised in Board meetings, based on careful analysis of agendas and supporting material.
Know and uphold the regulations, policies, and procedures of the organization.
Represent PAGE positions to individuals and groups with whom the Board member interacts (e.g. open doors to potential donors, make visits, or identify key alliance partners.)
Adhere to the conflict of interest policy of PAGE.
Create at least two (2) presentations or articles each year.
Recruit new members for the organization.