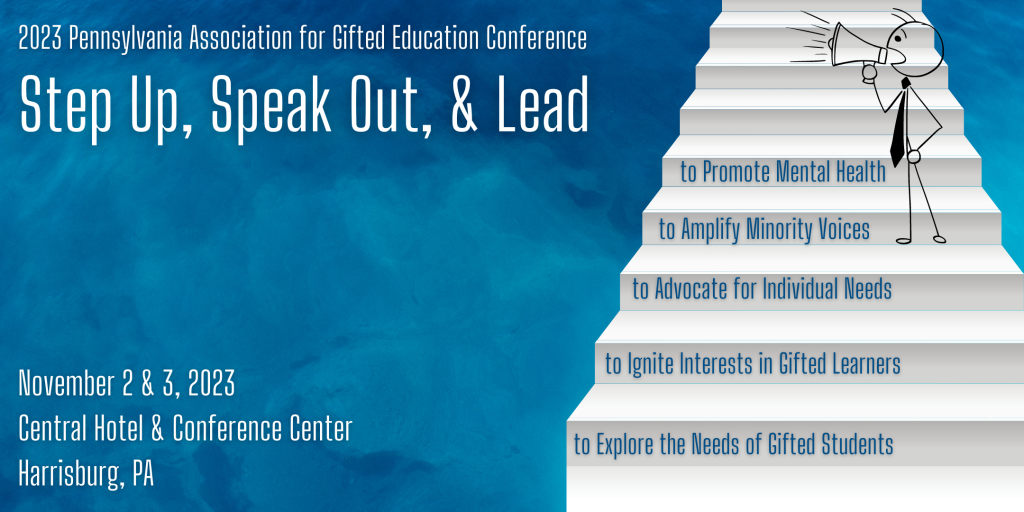 Join Us
Our 2023 annual conference will be held on November 2nd and 3rd, 2023 at the Best Western Premiere Central Hotel and Conference Center in Harrisburg, PA. We will be working to 'Step Up, Speak Out, & Lead to Promote Mental Health, Amplify Minority Voices, Advocated for Individual Needs, Ignite Interests in Gifted Learners, and Explore the Needs of Gifted Students'.
For Registration and Pricing Information visit: Eventbrite Registration
---
Hotel Information
The conference will be held at the Best Western Premiere The Central Hotel and Conference Center (800 East Park Drive, Harrisburg, PA, 17111).
A room block is available for $129.95/night and includes free breakfast, complimentary parking, and wifi. Room block expires 10/4/23 (or when hotel sells out).
---
Keynote Speakers
| | |
| --- | --- |
| Dr. Christine Deitz is the Associate Director of the Jodie Mahony Center for Gifted Education at the University of Arkansas at Little Rock.  She holds a Master Professional Educator teaching license in multiple areas and earned two National Board Teacher certifications in Social Studies and Gifted Education.  In addition to her Center duties, Dr. Deitz is also the Director of the UA Little Rock's Teacher Academy where she mentors 30 educators who are earning their National Board Teacher Certification. She has 40 years of teaching experience in metropolitan and rural elementary and middle schools and 30 years in gifted education. Dr. Deitz received the Doctoral Student of the Year award from the National Association for Gifted Children (NAGC) in 2013.  Her dissertation was an examination of teacher perceptions of implementing biography in elementary classrooms, and she has co-authored multiple Blueprints for Biography curriculum guides associated with two federal grants. Over her professional career, she has received multiple awards from NAGC including the Graduate Student Award, the A. Harry Passow Classroom Teacher Award, and the Curriculum Award. She is the past president of Arkansas's gifted advocacy group, Arkansans for Gifted and Talented Education. Dr. Deitz has taught gifted education courses at UA Little Rock since 2002, and has lectured nationally and internationally since 2005.  She reviews articles for several gifted education journals and currently serves on the Board of Directors for NAGC as State Representative. | Matthew "Dr. Matt" Zakreski, PsyD is a high energy, creative clinical psychologist who utilizes an eclectic approach to meet the specific needs of his neurodivergent clients.  He is proud to serve the Gifted community as a consultant, a professor, an author, and a researcher.  He has spoken over 200 times all over the world about supporting neurodivergent kids.  Dr. Zakreski is a member of Supporting the Emotional Needs of the Gifted (SENG), the National Association for Gifted Children (NAGC), the New Jersey Association for Gifted Children (NJAGC), and Pennsylvania Association for Gifted Education (PAGE).  Dr. Zakreski graduated from Widener University's Institute for Graduate Clinical Psychology (IGCP) in 2016.  He is the co-founder of The Neurodiversity Collective |
---
Award Nominations
Each year at our annual conference, PAGE honors people dedicated to gifted in several categories.  We recognize an outstanding teacher, student,  and parent.  
We need your help to find the best candidates!  Submit a nomination for someone in your life who has gone above and beyond to support gifted students across the state of Pennsylvania.
---
Keynotes & Schedule
Our keynote speakers and schedule are still in progress. Please check back or watch your email for updates!