Positive Education through Gifted Programs
May 1, 2017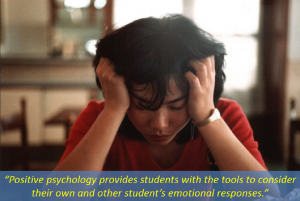 Gifted children are unique in their characteristics cognitively, socially and emotionally. Over a century of widespread research indicates gifted children can have advanced socio-emotional development matching their advanced intelligence, however, environmental and psychosocial influences can hinder or promote their well-being and healthy relationships (Smith, 2017).
Positive psychology focuses on the social development and well-being of students, engaging and challenging them in positive ways. The courses I develop for gifted girls integrate cognitive learning tasks along with positive psychology strategies and the opportunity to explore different career paths through excursions or guest speakers. The skills students can build through holistic gifted programmes extend into their lives, leading to better functioning at developmental stages and critical life transitions.
When considering how to implement positive psychology through each course to foster social and emotional development, I reflect on the five competences outlined in the CASEL (2015) guide: self-awareness (to understand their emotions), self-management (to self-regulate their emotions and behaviours), social awareness (to empathetically understand others), relationship skills (to engage in positive relationships), and responsible decision-making (to make constructive choices).
When commencing a course for gifted girls during the school holidays most of the girls don't know each other. Some of them have worked with me before and some have not. Prior to the course, I reflect on the information parents or carers have provided me through the registration process and consider the difference characteristics of each student. I reflect on the planned activities and consider how each student might respond socially and emotionally and what strategies I can employ to foster an environment that is conducive to cognitive development that also supports their social and emotional response. Each course is adapted depending on the unique characteristics of each student participating. Consider, how would you calm a student with over excitabilities when utilising a blow-up pool full of colourful plastic balls to develop positive relationships between participants? How would you encourage a student who socially isolates herself to integrate with the group when exploring big picture questions through stimuli to foster curiosity? With a student who is twice exceptional, how do you encourage students to focus on the gift and not the disability or difficulty? And how do you model this through your own actions? There is a myriad of possibilities you will encounter but having a toolkit of strategies you can work with will support everyone's development.
An activity I used in one of the courses started with a discussion about why we compliment people and how we feel when someone compliments us. Over the two-day course, students identified character strengths another student was demonstrating and wrote them a secret compliment on a sticky note, which we collated on a poster. This activity encouraged each student's self-concept to flourish, increasing their flow through the cognitive challenges they were working on. At the end of the course, each student took home their compliments, which they shared with their family.
When challenged with cognitive tasks in the course I consider; how does this student work through challenges emotionally? It may be likely they have not been challenged in this way before. Does this student have the perseverance to work through challenges? How do they approach each complexity? Do their thoughts become negative, causing anxiety? Or, are they able to counteract automatic negative thoughts and draw on positive thoughts to persevere through the challenge? Do they identify and recognise their own character strengths?  Do they know how to draw on these strengths when challenged? Creating a positive mood and outlook for gifted students can lead to a greater scope of creative thinking through cognitive tasks, broadening the mind and possibilities. Counteracting negative thoughts with positive thoughts is a strategy we need to teach and model through our gifted courses. During the courses I recently ran, I found myself coaching students through challenges counteracting their negative thoughts with positive thoughts, drawing on their character strengths to work through each challenge. This was particularly required with students demonstrating characteristics of perfectionism. It is essential we recognise that gifted students don't have all the answers and we need to provide them with a toolkit of social and emotional strategies they can draw from when challenged.
Positive psychology provides students with the tools to consider their own and other student's emotional responses. It provides them with the opportunity to reflect, consider and empathise with others to develop an understanding of why they feel this way. It provides students with the tools to build relationships through positive interactions and consider the decisions they make. As gifted students become older, their self-concept and self-efficacy can diminish when faced with psychosocial and environmental influences. By equipping gifted students with these strategies, we are providing them with a toolkit to draw upon as complexities or influences arise.
References:
Collaborative for Academic, Social, and Emotional Learning (CASEL). (2015). CASEL guide: Effective
social and emotional learning programs: Middle and high school edition. Chicago, IL: CASEL.
Smith, S. R. (2017). Responding to the unique social and emotional learning needs of gifted Australian
students. In E. Frydenberg, A. J. Martin, & R. J. Collie (Eds), Social Emotional Learning in
Australia and the Asia-Pacific: Perspectives, Programs and Approaches, (pp. 147-165), Springer.
Image courtesy of Flickr.
About the Author
Bek Duyckers is the Head of Imaginarium at Perth College Anglican School for Girls in Perth, Western Australia. The Imaginarium is an initiative that is unique to Perth College to cater specifically for gifted girls of very high ability. Courses are open to gifted girls who attend Perth College as well as other schools in the state. Bek is currently completing her PhD exploring how intercultural communication competence develops in the cognitive, affective and behavioural domains of students through participating in intercultural online collaborative projects. She is passionate about creating holistic programmes for gifted girls that stimulate curiosity and creativity, expand minds and possibilities, foster innovation, develop social and emotional characteristics and expose girls to a range of careers.
Twitter: @bek_duyckers
Facebook: @imaginariumperthcollege
Blog: https://theimaginariumperthcollege.com
LinkedIn: Bek Duyckers
School website: www.pc.wa.edu.au