PAGE Enhancing your Vision-April Webinars
April 11 @ 2:00 pm

-

4:00 pm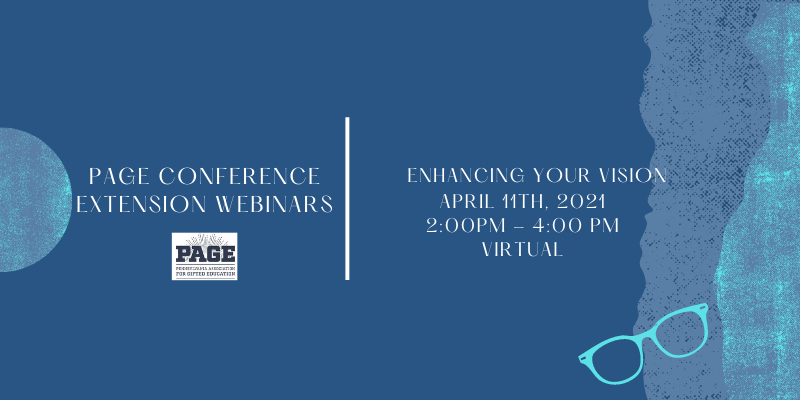 2:00
A Preschool Manifesto: The "Why" and "How" of Gifted Programming for Preschoolers: Jill Williford Wurman
Giftedness in very young children presents a conundrum: how does one feed their hungry minds before they begin school? Research tells us that their social-emotional health demands that their intellect be nurtured from the very beginning. We will share challenges, discoveries, and practicalities we have experienced in offering one of the nation's very few gifted programs for preschoolers.
Jill Williford Wurman is The Grayson School's Director of Research, responsible for research relevant to the school community, including academic performance, parenting, pedagogy, social-emotional development, longitudinal outcomes, and best practices in gifted education. She has presented on giftedness at the World Gifted Conference, NAGC, SENG, MIT, and the APA convention, and recently co-authored a chapter, "Definitely Gifted: Policy Analysis through the Lens of State Definitions of Giftedness," in the latest volume from the University of Denver's Perspectives in Gifted Education series, Legal Issues.
3:00
Mental Health—An Important Piece of the SEL Puzzle: Ariana Minella
Social-emotional learning helps us understand how mental health can be strengthened or diminished through our daily habits. In this session, you will discover evidence-based FREE [yes, FREE with no catch!] blended learning tools to seamlessly implement into your lessons to address SEL topics to open the conversation at school and home with a common language around mental + social health.
Ariana is in her second year with EVERFI and along with her team supports schools through Pennsylvania who wish to implement EVERFI's free and interactive programming. She has worked in education since 2012, beginning as a middle school teacher in Philadelphia and then working in education policy at the University of Delaware.
https://www.eventbrite.com/e/page-conference-extension-webinars-april-enhancing-your-vision-tickets-145887203553